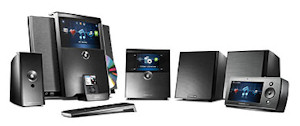 During the CES show, Cisco did just that with its new Linksys by Cisco Wireless Home Audio system, a multi-room audio solution that will be positioned as a direct – and less expensive – competitor to the Sonos multi-room wireless system.
The Wireless Home Audio system utilizes Wireless-N technology to deliver a rich audio experience to any room in the home. Users can create a party atmosphere with immaculate synchronization when listening to the same song throughout the entire home, or send different music to customized "zones".
Facts/Highlights:
Complete Solution: The Wireless Home Audio product family includes three available options for playback devices that allow consumers to bring wireless audio to any room – the all-in-one Conductor, the Director with powerful amplifier, and the Player – which is the ideal addition to existing sound systems. A Wireless-N Controller enhances the Wireless Home Audio experience by providing touchscreen access to all available audio from anywhere in the home. Consumers can easily unleash audio from their iPods by simply slipping it into the available docking station for instant access to all of the songs, playlists, and other audio content on the device. In addition, with millions of songs available from Rhapsody in the U.S. and audiolounge in Europe, Wireless Home Audio users can search for tracks, discover new artists, and create playlists to be sent to any room. A "Favorites" function gives one-touch access to any content from any source.
Great Audio Quality, Precise Synchronization: Cisco, the world's leader in networking technology has applied its years of knowledge and expertise to develop an amazing lossless digital audio delivery solution that preserves the full depth and richness of the recording, as originally intended by the artist. Through distributed decoding technology, each Wireless Home Audio device receives unmodified audio source material without any transcoding or compression. The audio is then reproduced and synchronized to within microseconds, virtually eliminating echo artifacts so often evident in other wireless audio systems.
Wireless Simplicity: With Linksys by Cisco Wireless Home Audio, music can be unleashed from existing digital libraries that are stored on a PC or other device, integrated Internet services, or even an iPod, with no need to run new wires around the home, or undergoing complex home renovation to install the devices. As a complete wireless solution, Wireless Home Audio products enable consumers to fully equip their homes with a world of music that is at their fingertips.
Standards-Based Compatibility: Following Cisco's standards-based approach to networking, the Wireless Home Audio products utilize Wireless-N technology to provide greater value to the consumer by allowing each device to achieve its full potential as an extension of the solution rather than requiring that one of the devices be hard-wired to a router. Wireless Home Audio products have been built to utilize the DLNA 1.5 standard, extending the value of the solution by making it accessible to and from a broad variety of devices. The products are compatible with standards such as HomePlug, Wireless-G, and Ethernet to allow consumers to choose the mix of networking technologies that is right for them.
Products:
Conductor DMC350 Wireless-N Digital Music Center
The Conductor is a complete, portable, self-contained wireless music system with integrated speakers that can be used to bring music to any room of the home. All it needs is a power outlet. It features a seven inch LCD touch screen for easy navigation through your music library and an integrated CD player to play those songs that you have not digitized yet. An individual IR Remote is included.
Director DMC250 Wireless-N Music Player with Integrated Amplifier
Features a 50-watt per channel integrated amplifier powerful enough to be placed in any room as a more permanent solution to access digital music, and includes a line in and out to connect to speakers. Its full color LCD display makes navigating through your music library simple. An individual IR Remote is included.
Player DMP100 Wireless-N Music Extender
Allows you to access digital music from existing stereo or surround sound systems in the home. Its compact design allows it to blend well with any décor making it an ideal option to extend music to any room in the home utilizing your existing audio equipment. An individual IR Remote is included.
Stereo Speaker Kit DSPK50
designed to compliment the Director – Wireless-N Music Player. Pair them to create a complete, high-quality wireless sound system and experience your digital music all around your home, at your control.
Controller DMWR1000 Wireless-N Touchscreen Remote
Designed to control the complete Wireless Home Audio system wirelessly. It features a large, color touchscreen, thumbwheel, and engaging interface designed to let you easily control any one or every one of your Linksys by Cisco Wireless Home Audio devices, including a docked iPod, from anywhere in your home, even when they're out of sight.
Docking Station for iPod MCCI40
Allows consumers to extend their available Wireless Home Audio library to include all of the content on their iPod, including Podcasts, Audio Books, and purchased iTunes content.
IR Remote DMRIR500
Comes standard with the Conductor, Director, and Player. Its simple button layout and slim form factor allows you to easily control your audio devices when you do not have a Controller nearby.
Pricing and availability:
The Wireless Home Audio products are available in the United States from authorized Linksys by Cisco retailers, authorized resellers, and VAR partners. Cisco anticipates availability in stores in Denmark and The Netherlands during the first quarter of 2009.
The Conductor will be available in the first quarter of 2009. Estimated street prices are as follows:
Premier Kit – $999.99/ €999.99
Trio Kit – $849.99/ €849.99
Executive Kit – $549.99/ €549.99
Conductor – Pricing available at launch
Director – $449.99/ €449.99
Player – $299.99/ €299.99
Stereo Speaker Kit – $149.99/ €149.99
Controller – $349.99/ €349.99
iPod Dock – $79.99/ €79.99
IR Remote – $29.99/ €29.99
Cisco Wireless Home Audio:
References: