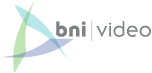 Cisco announced it has completed its acquisition of privately-held BNI Video. Headquartered in Boxborough, Mass., BNI Video supplies service providers with two major video products that offer video back-office and content delivery network (CDN) analytic capabilities.
The acquisition advances the capabilities of Cisco's Videoscape TV platform, which allows service providers to deliver compelling video experiences to any device over any Internet Protocol (IP) network. BNI Video's technology also helps Cisco's service provider customers reduce their operational costs and complexity, while expanding monetization opportunities.
BNI Video is already well recognized by the largest service providers as having built a differentiated solution for video infrastructure that will integrate into Videoscape and help service providers transition from their current architectures to Videoscape. Additionally, BNI Video and Cisco have a long-standing relationship as Cisco was an early investor in the company.
BNI Video brings immediate solutions to customers today and the team and technology will contribute to Cisco's Videoscape platform development into the future.
With the close of the acquisition, BNI Video employees join Cisco's Service Provider Video Technology Group.
References: http://newsroom.cisco.com/…/webcontent&articleId=546576