Browsing articles in "Tutorial"
Cron? no Kron :)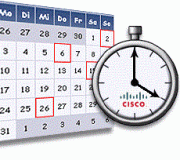 Cron is a time-based job scheduler in Unix-like computer operating systems. The name cron comes from the word "chronos", Greek for "time". Cron enables users to schedule jobs (commands or shell scripts) to run periodically at certain times or dates. It is commonly used to automate system maintenance or administration, though its general-purpose nature means that it can be used for other purposes, such as connecting to the Internet and downloading email. What can I use to schedule a script or a command in Cisco? The kron feature :) Kron provides the ability to schedule some EXEC command-line interface (CLI) […]
The break key sequence in the password recovery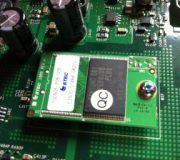 What can I do if I forgot the password in my router? The fastest solution is replace it with the 'password recovery' (you can try to find the password with bruteforce attack but I think it is not the better solution..). During the password recovery procedure, it is fundamental sent the correct 'Break' key sequence to enable ROMMON, but, as you know, the 'break' sequence depends by the software that you use! Below the standard break key sequence combinations for the most common operating systems.
Using regular expressions with the 'Show' command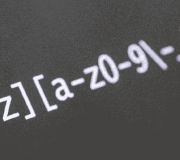 Do you remember the "Cisco regular expressions" tutorial? A regular expression is entered as part of a command and is a pattern made up of symbols, letters, and numbers that represent an input string for matching (or sometimes not matching). Matching the string to the specified pattern is called pattern matching. Pattern matching either succeeds or fails. If a regular expression can match two different parts of an input string, it will match the earliest part first. In this tutorial, I will explain how to use the 'show' command with the regular expression.
Cisco regular expressions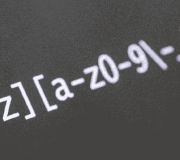 The origins of regular expressions lie in automata theory and formal language theory, both of which are part of theoretical computer science. These fields study models of computation (automata) and ways to describe and classify formal languages. In the 1950s, mathematician Stephen Cole Kleene described these models using his mathematical notation called regular sets. The SNOBOL language was an early implementation of pattern matching, but not identical to regular expressions. Ken Thompson built Kleene's notation into the editor QED as a means to match patterns in text files. A regular expression is entered as part of a command and is […]
Cisco IOS Keyboard Shortcuts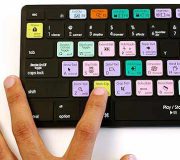 A number of shortcuts exist within the IOS command line interface. The most famous shortcut is the 'TAB' command, that completes a partially typed CLI command. For istance, if you type "sh ru" and press TAB, it will complete the command as "show running-config". Below the complete list of the IOS shortcuts: Ctrl+T: Swap the current character with the one before it Ctrl+K: Erase all characters from the current cursor position to the end of the line Ctrl+X: Erase all characters from the current cursor position to the beginning of the line Ctrl+L: Reprint the line Ctrl+C: Exit configuration mode
Hub & Spoke: an example of VRF-Lite
VRF is an extension of IP routing that provides multiple routing instances. It provides a separate IP routing and forwarding table to each VPN and is used in concert with MP-iBGP (Multi-Protocol internal BGP) between provider equipment (PE) routers to provide Layer 3 MPLS-VPN. However, ML-Series VRF implementation is without MP-iBGP. With VRF Lite, the ML Series is considered a PE-extension or a customer equipment (CE)-extension. VRF Lite is considered a PE-extension since its has VRF (but without MP-iBGP), and it is considered a CE-extension since this CE can have multiple VRFs and serves many customer with one CE box. […]
Smartports Macros: a useful command
Working in a datacenter, it is often required to apply the same intereface configuration on many ports; Cisco has an embedded useful command to do it: the smartports macros. Smartports macros provide a convenient way to save and share common configurations. You can use Smartports macros to enable features and settings based on the location of a switch in the network and for mass configuration deployments across the network. Each Smartports macro is a set of CLI commands that you define. Smartports macros do not contain new CLI commands; they are simply a group of existing CLI commands. When you apply a […]
How to use archive command to save configuration
In a large/critical network, it is fundamental backup the Cisco configuration for two reasons: Rollback configuration Restore configuration in case of a broken router There are two ways to backup: manually (using write command each time that you would save running configuration) or automatically (using software like Ciscoworks, HP OpenView, … ). In this tutorial, I would explain a different method to backup configuration: the archive command. Introduced into Cisco IOS Release 12.3(4)T, the archive command permits to save a copy of the current running configuration to different path: ftp, http, https, rcp, scp, tftp servers. Moreover the archive command has […]
Slow ADSL with 12.4 IOS version?!
Recently, I have upgraded my Cisco 2650XM from 12.3 to 12.4 version; I use it to connect my PC to Internet, but something goes wrong. After the upgrading, I have tried to downlad an ISO image but the speed was very low (about 300KB/s and not 700KB/s). Mhhh this is strange! I have begun the troubleshooting but no error, no warning message. So I have reset my current configuration, but nothing… no real improvement.
How to create shortcut command
Cisco IOS permits to define a shortcut to complex command. An alias can be configured to do anything that can be done at the command line, but an alias cannot move between modes, type in passwords, or perform any interactive functions. To create a command alias, issue the alias command in global configuration mode. The syntax of the command is alias mode command-alias original-command. Who have never typed repeatedly the commands show cdp neigh or show ip inter brief?
Email Updates
Enter your email address to receive notifications of new posts.