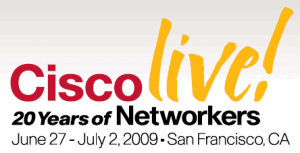 Cisco Live is Cisco's annual IT and communications conference and this year is the 20th Anniversary of the Cisco Networkers program.
"This year marks the 20th anniversary of Networkers, which has grown into Cisco Live, our annual IT and communications conference. Much has changed since that first conference in 1989. But one thing remains as true today as it was then: knowledge is power. That simple phrase is the perfect theme for Cisco Live 2009. Innovative, creative, and knowledgeable people and businesses will always have a powerful competitive edge. In a challenging economy, it's even more vital to hone the skills that can help you weather today's uncertainties and prepare for new opportunities in the future.
We realize the value of your time and have designed this year's conference to be the most relevant and worthwhile event you will attend this year. Our curriculum of more than 400 sessions is organized by functional tracks, so you can focus on the technical training, certification programs, and education most relevant to your needs, or you can expand your knowledge base by exploring new and emerging technologies.
The reasons that made Networkers a smart idea in 1989 hold strong for Cisco Live 2009. The more you know, the more powerful and successful you and your company will be, today and in the future. Cisco Live isn't just a wise investment, it also promises to be a lot of fun. We're excited about hosting this year's event right in our backyard. I look forward to seeing you in San Francisco." said John Chambers, chairman and CEO, Cisco.
Program Highlights
John Chambers Keynote: Hear directly from Cisco's Chairman and CEO about the company's vision for a new era of networking solutions and the ways in which information technology can help companies survive and thrive in a challenging economic climate.
Networkers Technical Program: Topics at the Networkers Technical Program range from security to mobility to unified communications and collaboration. The information, training, and certification opportunities in this program can help IT professionals at all experience levels and specializations hone their skills and add value to their organizations.
Super Sessions: Don't miss these one-of-a-kind sessions on the ideas shaping today's business and technology climate. You'll gain the broader perspective from Cisco partners and customers that can help you better understand the impact of emerging trends on your own business.
IT Management Program: The business of IT continually evolves as IT managers strive to complete a growing number of projects with limited resources. The IT Management Program provides broad overviews of current and emerging technologies, including discussions of the management implications of new solutions, suggestions on best practices, and insight into managing change and market transitions.
Developer Services Program: Today's networks do more than help organizations share data. Voice, video, and mobility applications are now critical to the ways businesses communicate and collaborate. Take an in-depth look at the next generation of network applications and the way they support new business methods and paradigms.
Ask-the-Expert Panels, Meet the Engineer, and Technology Solutions Clinics: Want to hear the latest on Cisco® solutions directly from the source? You'll have several opportunities to pick the brains of Cisco's top engineering talent and find out the how and why behind Cisco technologies.
World of Solutions: The innovation and creativity of more than 140 Cisco partners is on display at the World of Solutions. Here's your chance to explore solutions from Cisco's partner ecosystem and tap into the expertise and insight of Cisco representatives.
Service Provider Program: Networks are the fabric that knits businesses together. This new program addresses the unique concerns of service providers and the technologies they rely on that enable their clients to communicate, collaborate, and innovate.
Social Events: You've heard the age-old wisdom about all work and no play. Give your brain a break by attending Monday's 20th Anniversary Welcome reception, Tuesday's World of Solutions reception, Wednesday's Customer Appreciation Event—and watch for the networking opportunities throughout the week.
Events and Activities
Cisco Challenge: Think you're the ultimate network expert? Now you can prove it. Put your individual knowledge to the test for a chance to win great prizes, or choose sides and join the team competition.
Cisco Booth: Cisco experts will be on hand to answer your questions and share their insights on the latest networking trends and technologies.
Ask-the-Expert Panels: Join the interactive discussions with Cisco's panel of experts in a lively group setting.
Cisco TelePresence: Encounter the next level of collaboration with a realistic, "in-person" experience that helps organizations all over the world do business faster, better and more cost-effectively.
Solutions Theater, Cisco Booth: See live demonstrations of Cisco and partner solutions that are ready to improve the way you do business today. Presentations run throughout the day, so visit the Cisco booth for the latest schedule.
Cisco Powered Partner Pavilion: Want the latest networking capabilities at a lower cost? See how service providers – including members of the Cisco Powered Program – can help you use your IT investment more strategically.
Meet the Engineer: Schedule some quality one-on-one time with a Cisco engineer, Cisco Fellow, or senior Cisco development engineer to explore specific solutions to your unique challenges.
Technical Solutions Clinic: Drop by for an informal whiteboard discussion with Cisco technology experts on network implementations, applications, solutions integration, and more.
Passport Program: Sharpen your knowledge about solutions from Cisco Partners—and earn a chance to win. You'll accrue points every time you have your badge scanned at a partner booth in the World of Solutions. You can also earn extra points for completing session evaluations and activating your Cisco Live Virtual account.
More info on http://www.cisco-live.com