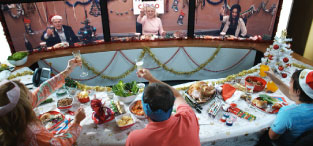 Cisco invites people residing in Australia and New Zealand to submit entries to the Cisco "Christmas Connections" Contest for a chance to connect with family and friends from around the world this Christmas via Cisco TelePresenceTM.
Cisco will award two first-place prizes of Christmas dinners over TelePresence, 10 second-place prizes of a TelePresence meeting and 20 third-place prizes of Flip MinoTM cameras to the person with the entry that best illustrates the importance of connections with family and friends at Christmas.
Cisco TelePresence creates a live face-to-face experience with high-quality video and spatial audio technology that makes it feel as if you're in the same room when in reality you may be thousands of kilometres away!  The Cisco "Christmas Connections" Contest is designed to connect friends and families living around the world over Christmas via Cisco TelePresence.
The deadline for entries is midnight Australian Eastern Daylight Time (AEDT) on Dec. 6, 2009. For official terms and conditions the Cisco "Christmas Connections" Contest, please visit: www.cisco.com/connect.
References: