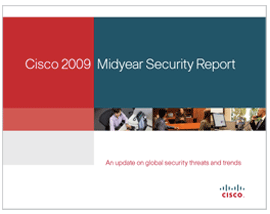 The Cisco 2009 Midyear Security Report presents an overview of Cisco security intelligence, highlighting threat information and trends from the first half of 2009. The report also includes recommendations from Cisco security experts and predictions of how identified trends will evolve. As predicted in the Cisco 2008 Annual Security Report, attacks are only becoming more sophisticated and targeted as we move through 2009—and the global recession.
However, while cybercrime is more pervasive, there are encouraging signs that increased collaboration among the "good guys" is making it more difficult for attacks to take root and grow.
Report Highlights
Criminals are exploiting traditional vulnerabilities because they believe security experts and individual users are paying little attention to these types of threats.
Compromising legitimate websites for the purpose of propagating malware remains a highly effective technique for criminals.
Web 2.0 applications, prized for their ease of use and flexibility, have become lures for criminals.
Criminals are now targeting online banking customers using well-designed, localized text message scams that leave virtually no trail in their wake.
The Obama administration has made strengthening U.S. cybersecurity a high priority, and plans to meet threats by using technological innovations and partnering with the private sector. Other countries are similarly increasing efforts to enhance cybersecurity and prevent cybercrime.
Compared to 2008, the number of vulnerabilities and discrete threats has not risen as quickly. According to research by Cisco, this is a clear sign that the security community is succeeding in making it more difficult for attacks to take root and grow.
An overview of the 2009 Midyear Security Report with Cisco Fellow Patrick Peterson.
References: